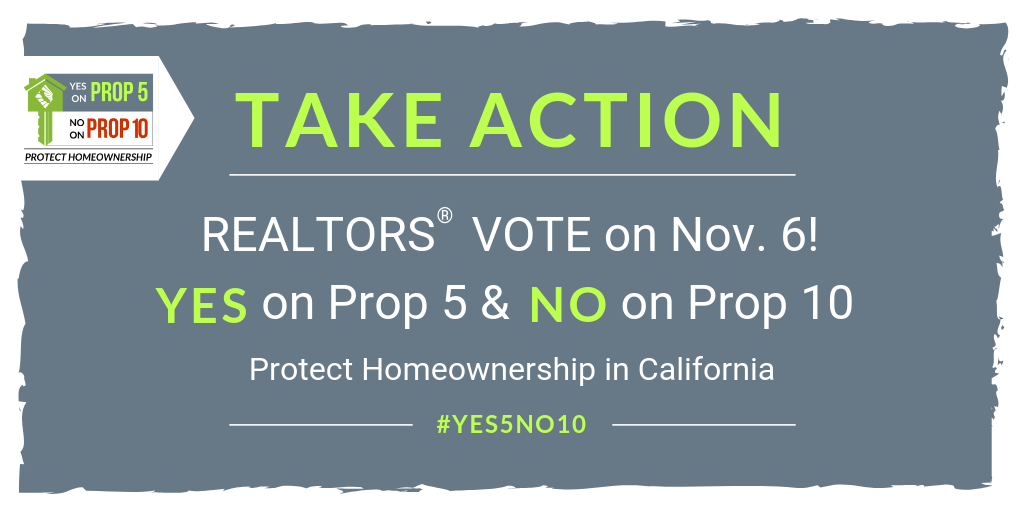 Are you voting on November 6?  Let's talk about Prop 5 & Prop 10 … and Why you should vote
#Yes5No10!
Prop 5 – Vote YES!
At present, a Senior, when selling their home and moving in the state of California, can take their property tax base with them IF they move to certain counties. AND they will need to buy their next home at equal or LESSER VALUE than the home they are seller.  This is Prop 90/60 which is presently in place.
Most Senior (55+) are not moving … why would they want to move to a county that doesn't accept their property tax base??  And with increased prices, there is a greater chance that their upleg will cost more than the home they are buying.
This is how PROP 5 is explained…..
The first is Prop 5, C.A.R.'s own initiative to create new homeownership opportunities by
generating more sales of single family homes in existing neighborhoods. This will benefit
young families at a time when California faces a severe shortage of houses for sale. Prop 5, the
Property Tax Fairness Initiative, qualified for the ballot earlier this year after C.A.R. submitted nearly 1
million voter signatures to the Secretary of State's office—a strong indicator of voter support.
• Here's how it will work:
o Seniors often live in homes that no longer meet their needs because their homes may be
too big or too far from family. If these homeowners want to downsize or move closer to
their children, they could face a doubling or tripling of their property taxes, or what's being
called a moving penalty.
o Proposition 5 provides appropriate relief by allowing those eligible with the ability to
transfer their current property tax base to the purchase of another home in any of
California's 58 counties. The new property tax for that individual would be based on their
original home's assessment, in addition to an adjustment consisting of the difference in
value between the sale price of the original home and the sale price of the new home.
o Proposition 5 would provide respite to seniors (many on fixed incomes), the disabled and
disaster victims by allowing them the flexibility to move to a more suitable home. Right now,
too many feel locked in place.
o This will help boost the housing inventory in existing neighborhoods as older homeowners
move from their single-family homes that no longer meet their needs and free up housing
for future generations.
Prop 10 – Vote NO!
Prop 10 is a repeal of Costa-Hawkins Rental Housing Act. It prohibits cities from placing limits on municipal rent control ordinances.  First, it prohibits cities from establishing rent control over certain kinds of residential units, e.g., single family dwellings and condominiums, and newly constructed[2] apartment units; these are deemed exempt. Second, it prohibits municipal "vacancy control", also called "strict" rent control.
So, in San Pedro, which is part of Los Angeles, if a property that was built prior to October 1, 1978, you can only increase the rent 3% per year. Only on the unit being VACATED, may the landlord raise the rent to Market Value.  All the other units will still be at pre-1978 rents + 3%.
*Prop 10 will make California's housing crisis worse. It's the wrong solution for a
state that desperately needs to create more affordable housing for middle class
families.
*Seniors, veterans, both gubernatorial candidates – Democrat Gavin
Newsom and Republican John Cox – and affordable housing experts all oppose
Prop 10 because it will make housing less available and less affordable.
*Let government dictate rental pricing for privately owned single-family homes.
Reduce home values by more than 10%, according to MIT researchers; an average loss of
approximately $39,000 per California homeowner.
*Significantly restrict what single-family homeowners can do with their homes.
Could allow bureaucrats to charge homeowners a fee for taking their home off the rental
market.
The facts are clear: Prop 10 will reduce affordable and middle-class housing in California and drive
down existing home values. For more information, please visit www.housingforCalifornia.com.
Please share this with other California Voters …  

#Yes5No10